Paintings
Paintings are mostly oil or acrylic. Mixed mediums have also been used on certain painting and spatula is the favourite tool, the brush complements the strokes and sometimes ingenious instruments are attempted to add a singular touch.
The artist expresses herself by spatial visualization of energy, lyrical metaphor of an inner feeling, and a brisk outpour of emotions. This could be defined by abstract impressionism, or for some, abstract expressionism. The artist's genre sways between both. For the viewer, no need to seek the interpretation of the artist, as sometimes no objective representation is intended; although you are welcome to do it! The delight of the colours and shapes fulfill the simple aesthetic pleasure.
Enjoy!
2014
The year 2014 ended up being more rebirth of old paintings and just a few new ones. My eyes kept seeing some new features to add, some transformations to supplement the theme of the paintings. Attention was focused on details to better tell the story. More travels scheduled in 2015, hoping they will bring innovative images..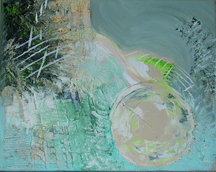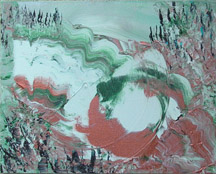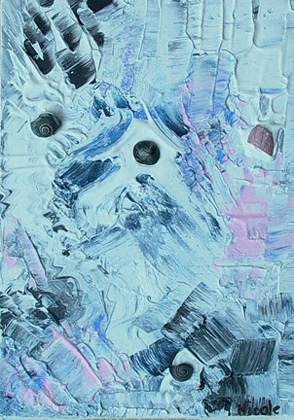 2013
Shades of blue and some shades of green are often considered cold colours, and white brings magic. The chilly winter brought a Nordic feel to creativity, painting in the icy whites, blues and greens. As cold encompasses this winter season through the waxing and waning of the moon, a new period is creeping out from the brush strokes.
As 2013 warms up and bring new shores for the artist to beach comb, stay tuned to see new creations here.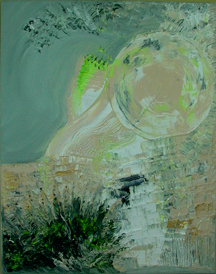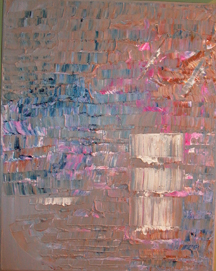 2012
Seashells collected from previous saunters down the Eastern Shores, clustered around the palette stroke or the brush touch. In 2011, they appeared on some paintings, in 2012 they have now become a medium (such as acrylic) being a colour of their own. The protective outer layer, remains of the sea creature, is my way of giving rebirth to those sea invertebrate.
Until my feet walk the warm sand, until the frantic waves carry back treasured shells...the works will be the diversion: Snail, Ocean Light, Shells Consortium, Shellshock and more to come...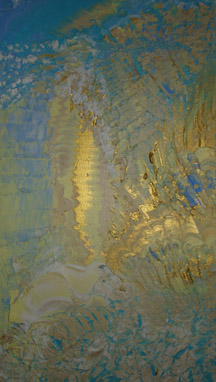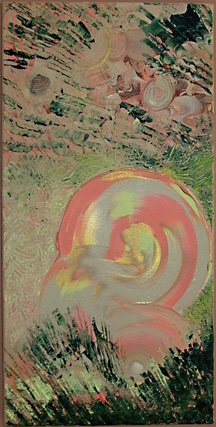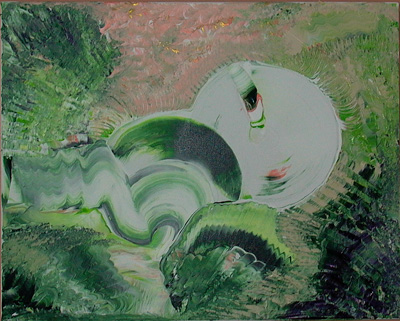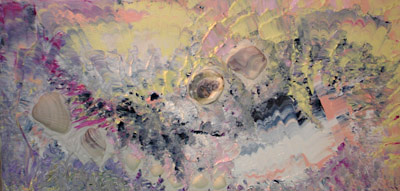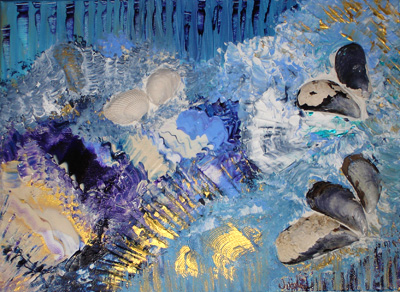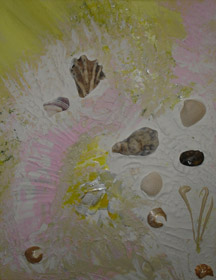 Les oeuvres sont habituellement faites d'huile ou d'acrylique. Different mediums sont aussi utilises sur certaine œuvres. La spatule est l'outil prefere, le pinceau un complement et quelquefois des instruments ingenieux, fabriques d'un rien du tout, tente d'ajouter une touche particuliere.
L'artiste s'exprime par la visualisation spatiale de l'energie, la metaphore lyrique d'un sentiment interieur et un deluge d'emotions. Ce style peut-etre defini par certain tel que abstract impressionism, par d'autres abstract expressionism; celui de l'artiste balance entre les deux. Pour l'apprecier il n'est pas toujours necessaire de decouvrir l'interpretation de l'artiste, bien que tres fascinant; mais plutot de savourer les couleurs et les formes, realisant le simple plaisir esthetique.
Hand-Painted Cards
All blank greeting cards are unique as a miniature painting. Cards are usually made from recycle cardboard and found in what people discard. Sizes will vary. Colour themes may be requested for specific occasions, appealing to create in themes.
Toutes les cartes de souhaits sont unique, une toile miniature. Les cartons sont recyclés et les grandeurs varient. Des thèmes de couleurs peuvent être demandés et interessant de relever un defi thematique.